The Mixer FAQ
Posted by Andrew Gardner on
The Mixer™ is a tool that lets you create and share custom, BrainPOP-style quizzes. View The Mixer Screencasts. What is the Mixer? Who has access to the Mixer? How do students access one of m...
Mixin' it Up With the Common Core! Guest Blogger Kara Wilkins Shares Creative Ways to Use the BrainPOP Mixer
Posted by Andrew Gardner on
Guest Blogger and BrainPOP Educator Kara Wilkins is chair of the Social Studies Department at Hudson Memorial School in Hudson, New Hampshire. My name is Kara Wilkins. I have been teaching at Huds...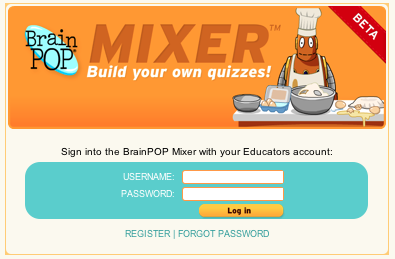 Have You Mixed a Quiz Yet? Say Hi to Quiz Mixer!
Posted by Andrew Gardner on
The new Mixer™ -- which lets you remix, customize and craft your own BrainPOP-style quizzes – is already receiving glowing reviews! After this week's overview webinar, members of the BrainPOP E...