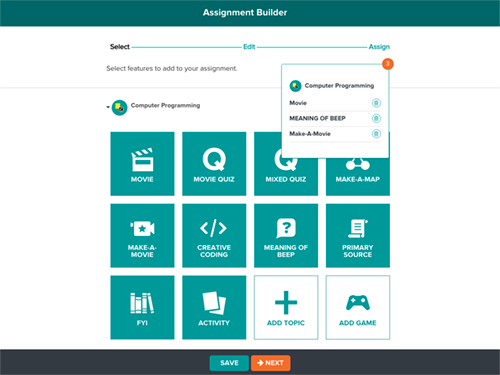 Introducing the New Assignment Builder on BrainPOP and BrainPOP Jr.!
Posted by jglassman on
You asked for it and we made it: an easy-to-use assignment tool that lets you create a single assignment with multiple movies and features! You can still quickly assign a single feature as before, but now you can build a robust assignment that mixes and matches different features and even topics!
To access the Assignment Builder, simply log in with your My BrainPOP teacher account, navigate to any topic or feature, click the assign button, and select Assignment Builder. The tool will open with all the features available for that topic. Select the features you want to assign, including quizzes, games, Make-a-Movie, concept maps, primary source activities and much, much more! You can also assign movies and features from other topics–even from BrainPOP Jr. The Assignment Builder will help ease lesson planning and differentiation, enabling students to focus on specific content.
Once you build the assignment, you can send it to a whole class or individual students. You may also set an optional due date or start date. Then just click "Assign". It's that easy!