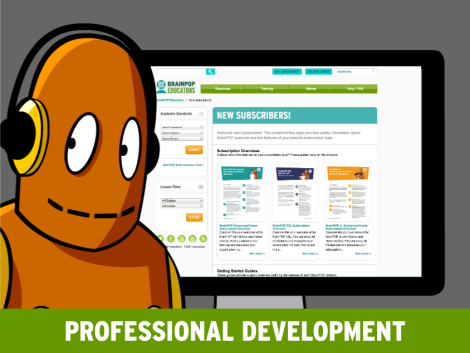 4 Resources to Help You Get Started with BrainPOP
Posted by SM Bruner on
Do you want to get started with BrainPOP this school year? Check out the following resources from our New Subscriber page to get familiarized with what we have to offer:
1. Subscription Overviews: You'll find a downloadable overview of each subscription type.
2. Getting Started Guides for Staff and the School Community: These two downloads provide a quick overview outlining the features of each BrainPOP product and explain how they can benefit students.
3. Subscription Announcements: Print out or email these PDFs to share BrainPOP basics with colleagues, parents and students
4. Overview Videos: Play any of the quick video tours featuring BrainPOP, BrainPOP Jr., BrainPOP ELL, BrainPOP Educators, and BrainPOP's GameUp!
All of these resources are available in one convenient place: the New Subscriber page. If you're already familiar with BrainPOP and are training other staff members on it, be sure to visit our Giving a Workshop page and download some helpful outlines for your professional development event.