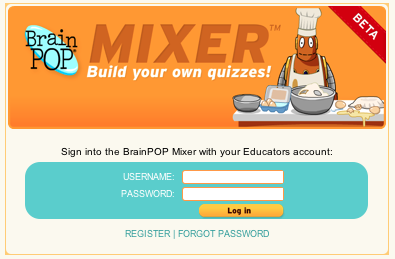 Have You Mixed a Quiz Yet? Say Hi to Quiz Mixer!
Posted by Andrew Gardner on
The new Mixer™ — which lets you remix, customize and craft your own BrainPOP-style quizzes – is already receiving glowing reviews! After this week's overview webinar, members of the BrainPOP Educators community shared their positive reactions to the quiz mixer. @lwolfe puts it simply: "I love the Mixer!!"  @ccentra raves: "This will help me customize the quiz for each student!"  @sturpin asserts the ability to "customize quizzes will enhance the assessments of standards that we are using in our classrooms."
So have you tried the Mixer yet? Have you explored our 9,000+  multiple choice and open ended questions?  Have you had the thrill of creating differentiated quiz experiences for your students? What are you waiting for?  Remember that in order to use the Mixer, you'll need to link your free BrainPOP Educators account with your BrainPOP username and password.
Do you have suggestions for how we can improve the Mixer experience? Since this is our newest feature, we're especially excited to read your feedback. We want to make this tool the best it can be!
Want a quick refresher on how to use the Mixer? Check out this screencast: